Graeme Nicholas
BSc, BD, MTheol
Graeme is an innovative facilitator and adult educator. He established his own consulting business,
Ti Kouka Consulting
, in 2003 and in 2007 joined the team at Lukey Resources as an Associate. Earlier, Graeme spent ten years as an in-house consultant in the Anglican and Presbyterian churches.
Graeme has extensive experience in designing and facilitating professional development opportunities, stakeholder and community engagement and organisational strategic thinking.
Graeme brings to his projects unconventional thinking, a creative and analytical mind and specialist training in facilitation and counselling.
He is an accredited practitioner of the Cognitive Edge consulting approach and a practitioner of Appreciative Inquiry, soft systems and open space methodologies.
Graeme is a member of the NZ Association for Training and Development and of the Society for Organisational Learning (Australia) Ltd.
Graeme and his wife, Barbara, have a business specialising in walnut growing. He is plays a key role in the research programme of
NZ Walnut Industry Group
.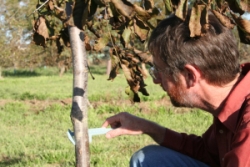 Creative trainer, systems thinker and innovative facilitator
Graeme Offers:
Strategic Thinking: Strategic Planning
Advanced Facilitation
Executive Mentoring / Professional Supervision
Making sense of feedback and experience
(Cognitive Edge methods)
Appreciative Inquiry facilitation
Making the most of on-line collaboration tools
In-house workshops
Key Responsibilities and Achievements
Learning and Development
Designed and delivered professional development for over 15 years
Designed and delivered learning facilitation workshops
Tailored workshops on conflict, leadership, teams and change
Advanced Facilitation and Engagement
Strategic Planning - training and facilitation - for Solomon Islands Red Cross
Public deliberation process for NZ Bioethics Council
Dialogue process for State Services Commission
Stakeholder engagement on resource management
Contact Graeme